Real quick post. I just got home from Sac not too long ago and just wanted to say that I have the cutest dog on the face of this earth. Seriously, look for yourself: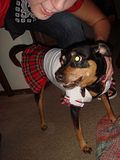 I saw the school girls uniform and could not resist. She's such a love!
In other news. I'm tired. Very tired. So I am off to get ready for bed and watch a little Friends. But I just had to get on here and show you guy's Chloe's costume :]


Hope you all have a good Sunday night and Monday morning! I leave you with one of my favorite episodes of friends. TOW Ross' Sandwich. He's so incredibly neurotic about his sandwich, it reminds me of myself.


-J