Hello Ladies. It's about that time for an update since it's been FOREVER since I posted. Don't be disappointed though!
What I'm listening to right now: The love that I crave - The Blow
How my day was: Awesome. I did almost nothing and it was perfect.
Highlight of my day: I spent about an hour cuddling with Chloe. I love her smell.
Lowlight of my day: I hate Target on the weekends.
One thing you probably didn't know about me: I love the word FACE. I use it all the time. I attach it to other words, and I always say it a little differently when I use it in a sentence with other words. I call Chloe "FACE". OR ChloeFace. I'm just a Face. My loved ones all have Faces that I love. You'll find me asking them "How's your face?". I'm weird.
Moving on...
So I haven't posted since Thursday, so to make up for it, I took more pics. I grabbed the love of my life (Chloe) and turned on the webcam. I am pretty sure she is sick of having her pic taken but she's going to have to just deal with it. Oh and by the way, she is totally wearing a tie. I swear to god shes the dog version of Ellen.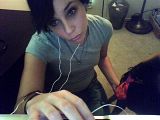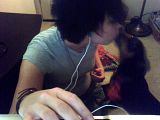 And can you believe I haven't seen a douche bag all weekend? I can't believe it. OH WAIT. I take that back. I saw an Italian shoe douche at Cheesecake. Damn it. I thought it was quite possible that I hadn't. OH and this coming weekend I am going to be in LA visiting my grandma and catching the Terra Naomi show. Check out some of Terra's songs on mybreast. I mean on
myspace
. Gosh. Sorry about that. My minds in the gutter. Well...not just my mind, my whole damn body.
K kiddies...I end this post with:
"You remember the route to her heart from her thighs" *Ahem* Hot.
Now you just think about that.
Perky boobies to you all!
-J